Books

HOOFCARE

By Nic Barker and Sarah Braithwaite
Feet First. Barefoot performance & hoof rehabilitation. UK publication by two of the leading UK's barefoot hoof care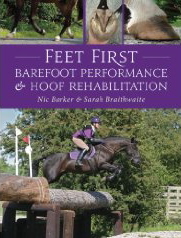 specialist's. If you work with horses, have a barefoot horse or are considering barefoot then get this book.

By Pete Ramey
Making natural hoof care work for you. Excellent book for horse owners, vets and hoof care providers.

By Jaime Jackson
The Natural Horse. Inspirational work introducing new models for hoof care and horse keeping, natural gaits, anatomy, behavior and training.
Horse owners guide to natural hoof care. The barefoot alternative to horse shoeing.
Founder. Prevention and cure the natural way. This 'Little red book' is a must for anyone who is dealing with the complex problems of laminitis. It introduces a break through into treating laminitic horses. Highly recommended.
Paddock paradise. Introducing a system to promote natural equine behaviors with the domestic environment. Has many solutions for keeping horses healthier and managing land more effectively.

By Lisa Simons Lancaster
The sound hoof. Horse healing from the ground up. Covers all aspects of hoof care clearly and concisely for the 21st century. Includes lower leg anatomy, terminology, laminitis and navicular, hoof care theory and research that has progressed both barefoot and shoeing to where it is today.